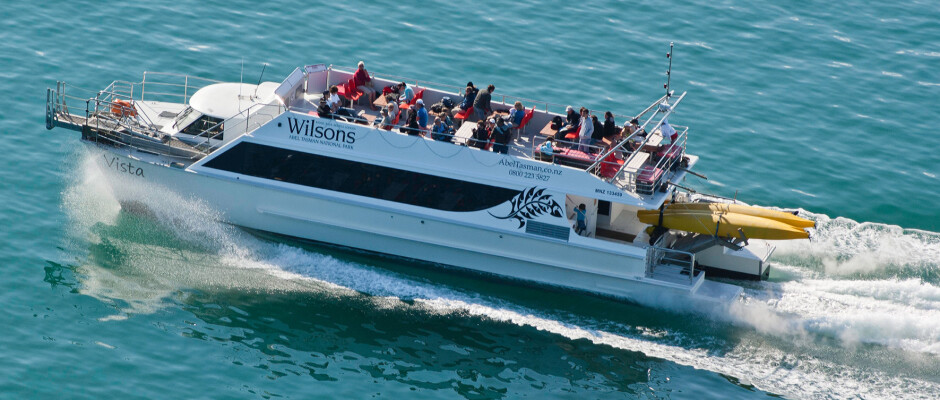 Tourism Operator Switches to Hyundai SeasAll Modern Diesel Technology
 One of New Zealand's most popular marine tourism operators has switched to Hyundai SeasAll's modern diesel engine technology in their search for performance, economy and an engine that is more environmentally friendly.

Wilsons Abel Tasman, located in New Zealand's, Abel Tasman National Park recently installed two Hyundai SeasAll L500 diesel engines into their 22-metre catamaran the Abel Tasman Voyager.

Wilsons Abel Tasman Managing Director Darryl Wilson said that in choosing Hyundai SeasAll engine for this vessel the engines had to meet a number of requirements.

"Foremost, due to the vessel being a catamaran, we needed an engine that had a narrow profile. The Hyundai SeasAll L500 fitted that requirement perfectly for us. Having worked on many large ship diesel engines it was obvious Hyundai had marine engineers in their design team as all serviceable elements are visible, nothing is hidden behind decorative shrouds, pipes and hoses are connected with flanges and hose clips and there are no troublesome proprietary fittings exist. 
The option of being able to remotely mount oil and fuel filters to further reduce the width was a key selling point," says Wilson.

Wilson stated that Hyundai also had a strong and proven reputation for delivering efficient and powerful technology that was more environmentally friendly through the company's automotive, heavy industries & marine divisions.

"We operate in the pristine waters of a national park, and having achieved Qualmark Enviro Gold certification we must walk the talk of being an environmentally conscious company."

"The previous engines we had weren't really up to the task, we needed an engine that delivered the horsepower, but also returned good fuel economy figures as well. The Hyundai is delivering that for us and it can easily deliver and hold a cruise speed of 18 knots when fully loaded." 
The Hyundai SeasAll L500 engine is a 12.7 litre six cylinder rated for uninterrupted use at full power and has been designed with fuel efficiency as a central focus, stable performance when heavily loaded and to respond well to sudden load changes. The Hyundai SeasAll engines are low emission yet they still deliver high torque." 
"The efficiency of the engines has been quite fantastic, since we have installed the engines we have seen a significant reduction in our monthly fuel bill. But we're achieveing that whilst still getting the speed and performance that we require." To make the repower even better, regular passengers have commented on the reduced noise levels.
Allpower Marine Business Development Manager Mark Harrison says the L500 has been specifically designed for commercial applications such as Wilsons Abel Tasman.
"The robustly designed L500 unit was specifically conceived as a heavy duty engine with the ability to serve the professional and commercial market. It features an electronically-controlled fuel injection system which allows it to meet strict emission standards and to deliver heavy duty power and torque over a wide range of engine speeds," says Harrison.
The oil, fuel and seawater pumps of the L500 are all gear driven rather than using a belt drive and the monosteel pistons are gallery cooled. Maintenance is assisted by such features as the easily accessible seawater pump and filters as well as a washable and re-useable centrifugal oil cleaner, also the engine is fitted with an electric oil change pump.
"A heavy duty engine providing excellent power and torque in a wide rpm range proves Hyundai SeasAll's diesel development capabilities are world-class and out perform many of the competitors comparable models. Economy is assured by the state-of-the-art fuel management system featuring electronic unit injectors (EUI) and the electronic engine control system makes quieter and more fuel efficient."
"The L500 engines have EPA Tier 3 emmission certification. The L-Series far exceed the strict emissions and noise regulations which give Hyundai SeasAll engines a competive edge."

"The L500 provides excellent value-both at the time of purchase and during operation. It is economical and clean running and with an attractive warranty package – all attributes that will appeal to commercial users."