Hyundai SeasAll G7 Engine
Introducing the Hyundai SeasAll G-series engine.
The G7 engine is an inline 6-cylinder 6.8L 300-350hp engine, which will sit in the middle of our current range of diesel inboard marine engines. 
Two variants are available, a light-duty commercial producing a peak of 350hp at 2800rpm and heavy-duty commercial producing a peak of 300hp at 2500rpm, ideal for workboats and recreational boats
Fill out your details here and we'll be in touch with more information.
Register your interest here.
The G-Series
The G-series marinisation is another quality marine conversion completed at Hyundai SeasAll's marine factory. Hyundai SeasAll marine engines have been operating in the New Zealand market for 10 years. We are enjoying continued growth, and with the introduction of this new engine, we now have a complete range of engines rated from 200-700hp. 
Engine Specs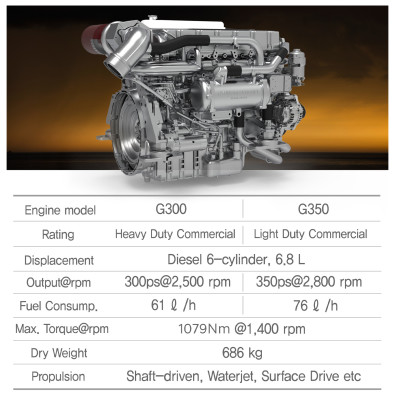 G7 Engine Gallery